---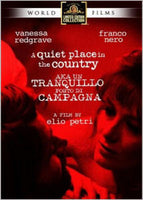 Sale
A Quiet Place In The Country (Un Tranquillo Posto Di Campagna) DVD. 1968. Widescreen. Color. English language.
Starring: Franco Nero and Vanessa Redgrave.

An eerie, overlooked classic of madness and horror. Leonardo (Franco Nero) is a painter who retreats to a house in the country to regain his lost inspiration. He is plagued by the presence of an erotic apparition. The gorgeous ghost soon moves the painter to the point he wishes to carry on a relationship with her. Leonardo is several bristles shy of a brush as he sinks deeper into insanity.