---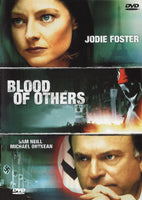 Blood of Others DVD 1984 (Playable in the US, Canada, Mexico, etc.) Color, Shown in original TV aspect ratio 1.33.1 Run time approx. 125 min. Beautifully restored print. Gorgeous picture and sound.
Starring: Jodie Foster, Sam Neill, Michael Ontkean, Lambert Wilson, John Vernon, Kate Reid, Jean-Pierre Aumont, Micheline Presle. Written by Brian Moore and Odile Barski, based on the 1945 novel "The Blood of Others" by Simone de Beauvoir. Directed by Claude Chabrol.
Set during WWII in German occupied Paris, Helene (Jodie Foster) is torn between the love for her boyfriend Jean (Michael Ontkean), working for the resistance and the German administrator Bergmann (Sam Neill), who will do anything to gain her affection.
This French-Canadian co-production was originally telecast August 23, 1984.