---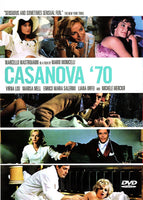 Sale
Casanova '70 DVD 1965 (Region 1 - Playable in North America - The US, Canada, Mexico, etc.) Widescreen (1:78:1) Color Italian with English subtitles Approx. 111 min. Beautifully re-mastered!
Starring: Marcello Mastroianni, Virna Lisi, Marisa Mell, Michele Mercier
Marcello Mastroianni (8 ½, La Dolce Vita) stars as Andrea Rossi-Colombotti, an Italian army officer attached to a NATO force who constantly seeks to finds pleasure with beautiful women in life-threatening situations. Unfortunately without the danger he can't perform which leads to an ever-increasing need for danger and of course much madcap hilarity and female nudity along the way. Boasting a stunning roster of beautiful female co-stars including, Virna Lisi (How to Murder Your Wife; La Reine Margot), Marisa Mell (Danger: Diabolik), Michele Mercier (Shoot the Piano Player); Beba Loncar (The Long Ships) & Margaret Lee (Five Golden Dragons) it's a fun-filled romp, certainly one of the best that Carlo Ponti produced during the 1960's.
Casanova '70 was made at the height of Marcello Mastroianni's stardom and displays his considerable comic touch and especially his willingness to poke fun at his 'Latin lover' image. Working with legendary screenwriters Tonino Guerra (Amarcord), Suso Cecchi d'Amico (The Bicycle Thief) as well as frequent collaborators Age & Scarpelli, Mario Monicelli fashions a highly entertaining comic romp.
"Sensuous fun" --New York Times
"One of Carlo Ponti's numerous internationalist assaults on the American box-office, exploiting Mastroianni's currency as the Latin lover "--Time Out
"This 1960s sex romp is definitely Sunday afternoon fare ... A real treat" --MovieTalk
This version is presented in 1:78:1, Widescreen, and is in the original Italian Language with English Subtitles.