---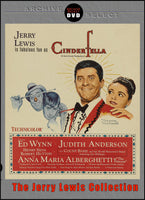 Cinderfella 1960 Color (Region 1 - Playable in North America - The US, Canada, Mexico, etc.) New price!

Starring: Jerry Lewis, Ed Wynn, Judith Anderson and Anna Maria Alberghetti. Written and directed by Frank Tashlin. Produced by Jerry Lewis.
When his father dies, poor Fella (Jerry Lewis) is left at the mercy of his snobbish stepmother (Judith Anderson) and her two no-good sons, Maximilian (Henry Silva) and Rupert (Robert Hutton). As he slaves away for his nasty step-family, Maximilian and Rupert attempt to find a treasure Fella's father has supposedly hidden on the estate. Meanwhile, hoping to restore her dwindling fortunes, the stepmother plans a fancy ball in honor of the visiting Princess Charming (Anna Maria Alberghetti) whom she hopes will marry Rupert. Eventually, Fella's Fairy Godfather (Ed Wynn) shows up to convince him that he has a shot at winning the Princess himself.
Part of the Martin and Lewis Collection - buy more than one item from the collection and receive a 12% discount!