---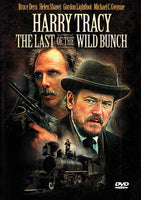 Sale
Harry Tracy - The Last of the Wild Bunch (aka Harry Tracy, Desperado) 1982 DVD (Region 1 - Playable in North America - The US, Canada, Mexico, etc.) Color Approx. 107 min.
Starring: Bruce Dern, Gordon Lightfoot, Helen Shaver, Michael C. Gwynne
Famed outlaw Harry Tracy (Bruce Dern) is known for his daring train robberies, but lately he's concentrating more on matters of the heart. That's why he's traveling to Oregon to reunite with his sweetheart, Catherine Tuttle (Helen Shaver). She's the daughter of a judge, and it's no surprise that, when Tracy gets to Portland, he winds up behind bars. But no jail built can hold the desperado, and, after breaking out, Tracy finds himself on the run from every lawman in the state.
Nominated for seven Genie Awards (1983).
5/2/2023
Canadian folk music icon Gordon Lightfoot dead at 84
Canadian folk music icon Gordon Lightfoot, whose evocative and poetic songs are etched into the musical landscape of Canada, has died at the age of 84, according to his longtime publicist Victoria Lord.
Lord says Lightfoot died at a Toronto hospital on Monday evening. The cause of death was not immediately available.
Born in Orillia, Ont., Lightfoot was hailed as Canada's folk troubadour for his soulful music and stirring lyrics. In songs such as "The Canadian Railroad Trilogy" and "The Wreck of the Edmund Fitzgerald", he explored the country's history, geography and culture.
"He is our poet laureate, he is our iconic singer-songwriter," said Rush singer Geddy Lee in the 2019 documentary "Gordon Lightfoot: If You Could Read My Mind".
"Gordon's songs are works of art, every bit as relevant as classic poetry," Tom Cochrane said during his salute to Lightfoot at the Canadian Songwriters Hall of Fame gala in 2003.
"But even more importantly, Gordon Lightfoot led the way and he showed us … that you can be true to your roots. You can draw on your influences at home and country and you can incorporate those inspirations into the fabric of your work and still be internationally successful."
A childhood performer on local radio and at regional music festivals, Lightfoot wrote his first song, The Hula Hoop Song, in 1955, while still in high school.
"A lot of the images in my songs are drawn from this kind of country," the singer-songwriter said of Orillia, in a 1967 interview with CBC-TV's Telescope.
"I've been a lot of places and I've seen some nice country. I don't think any of it will ever stay with me or impress me as much as this country here in Muskoka… It's the country I grew up in."
After graduating high school, Lightfoot moved to Los Angeles to study at the Westlake College of Music. He returned to Canada in 1959 and worked a variety of jobs in Toronto. He was a choral performer, a dancer on CBC's Country Hoedown and a folk singer in the Two Tones with Terry Whelan.
In the 1960s, inspired by the music of Bob Dylan, Lightfoot became part of Toronto's burgeoning folk scene. He developed his songwriting and began working on a debut album. Lightfoot! emerged in 1966.
At the same time, Lightfoot started what would become a highly anticipated, annual concert stand at Toronto's Massey Hall. Launched in 1967, it happened every year until the mid-1980s, then dropped down to about once every 18 months. In 2005, Lightfoot resumed the Massey Hall event as an annual tradition.
After earning accolades at home in the late 1960s, Canada's troubadour broke through internationally in the 1970s after signing with Warner Records in the U.S., making a splash at the start of that decade with the release of the single "If You Could Read My Mind", now a folk standard.
Lightfoot followed that up, over the next six years, with what became many of his best-known songs, such as "Beautiful", "Sundown", "Don Quixote", "Carefree Highway", "Rainy Day People" and "The Wreck of the Edmund Fitzgerald".
In addition to early adopters like fellow folkies Ian and Sylvia Tyson, and Peter, Paul and Mary, a wide range of artists recorded Lightfoot's music, including his idol Bob Dylan. Elvis Presley, Johnny Cash, Petula Clark, Stompin' Tom Connors, Liza Minelli, Barbra Streisand, Sarah McLachlan and Anne Murray.
"I never heard a cover of one of my songs that I didn't like," Lightfoot told the Arkansas Democrat Gazette newspaper in 2008.
Prime Minister Justin Trudeau said Canada has lost "one of our greatest singer-songwriters.
Lightfoot is survived by his wife, Kim, six children — Fred, Ingrid, Galen, Eric, Miles and Meredith — and several grandchildren.