---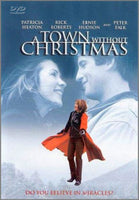 Sale
A Town Without Christmas 2001 DVD (Region 1 - Playable in North America - The US, Canada, Mexico, etc.) Color. Beautiful.

Starring: Peter Falk, Patricia Heaton, Rick Roberts, and Ernie Hudson. Written by Michael J. Murray. Directed by Andy Wolk.
In the little town of Seacliff, Washington, one kid's letter to Santa has captured the nation's attention. "Chris" writes that he may leave this world by Christmas so he will no longer be a burden to his divorcing parents. A race begins to find him before he harms himself. M.J. Jensen (Patricia Heaton), a smart and serious TV reporter, is assigned to the story by her competitive boss (Ernie Hudson). With the help of an unlikely angel named Max (Peter Falk), who appears as different characters in the town, M.J. and David find "Chris", who turns out to be the mayor's daughter, Megan. Not only are the mayor and his wife divorcing, they're also fighting about the annual Christmas pageant. Since the town has fallen on hard times, the mayor has cancelled the event, saying that he doesn't have the funds to support it. His wife believes it's imperative to have the pageant, because you can't have "a town without Christmas."
If you like this, you will surely like "FINDING JOHN CHRISTMAS" and "WHEN ANGELS COME TO TOWN" (also available at The Vermont Movie Store).

 (***IMPORTANT: This DVD will play on all North American and U.S. players, unlike Region 2 and Region 0 discs on other sites.)