---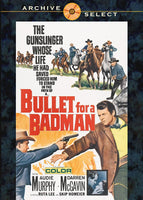 Sale
Bullet for a Badman (1964) Region One (Playable in North America – The US, Canada, Mexico, etc.) Color 77 min. Widescreen (1.85:1) Beautiful re-mastered print.
Starring: Audie Murphy, Darren McGavin, Ruta Lee, Beverley Owen, Skip Homeier, George Tobias, Alan Hale Jr, Berkeley Harris, Edward Platt, Kevin Tate, Ray Teal, Bob Steele and Aline Towne. Directed by R. G. Springsteen.
Sam Ward (Darren McGavin) and Logan Keliher (Audie Murphy) were once brothers in arms in the Texas Rangers. When both left the force, Ward turned outlaw and is angry at Keliher for marrying his former wife and adopting his child whilst Ward was imprisoned for his crimes. Ward escapes from prison and forms a gang to rob a bank in Keliher's town with Ward planning to kill Keliher after the robbery. Keliher foils the robbery with Ward the only survivor of his gang. Ward escapes with the loot though he is wounded by Keliher. Keliher links up with a posse and uses his knowledge of Ward's ways to track him down.
The Gunslinger Whose Life He Had Saved Forced Him To Stand In The Path Of A... Bullet for a Badman!
Logan Keliher: "We were friends once, Sam. It's not easy to shoot an old friend."
Sam Ward: "Friend? That's a long way back, Logan. And I got one big advantage over you. You won't kill me unless you have to. I won't hesitate one second about killing you."
Part of The Audie Murphy Collection - buy more than one item from the collection and receive a 10% discount! Use discount code: "AUDIE".