---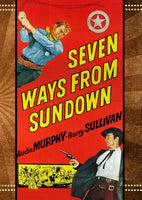 Seven Ways From Sundown 1960 DVD (Region 1 - Playable in North America - The US, Canada, Mexico, etc.) Color. Beautiful print!
Starring: Audie Murphy, Barry Sullivan, John McIntire, Kenneth Tobey, Venetia Stevenson, Don Collier, Don Haggerty, Don Anderson, Robert Burton. Written by Clair Huffaker. Directed by Harry Keller.

Assigned to capture the charming, but deadly, outlaw Jim Flood (Barry Sullivan), inexperienced Texas Ranger "Seven Ways From Sundown" Jones (Audie Murphy) and his veteran partner, Sgt. Henessey (John McIntire), set out to bring down the wanted man. After finding his trail, Jones and Henessey are caught in an ambush set by Flood. Henessey is killed in the action, but Jones continues the mission. When he finally apprehends Flood, Jones doesn't expect to become friends with the criminal.
"The powerhouse story of the man who shook Texas like a pair of dice...and the Ranger who had to stop him dead in his tracks ! "
Part of The Audie Murphy Collection - buy more than one item from the collection and receive a 10% discount! Use discount code: "AUDIE".