---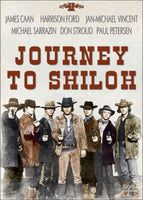 Sale
Journey To Shiloh 1968 DVD (Region 1 - Playable in North America - The US, Canada, Mexico, etc.) Digitally re-mastered. Color. New lower price!

Starring: James Caan, Harrison Ford, Jan-Michael Vincent, Michael Sarrazin, Paul Petersen, Don Stroud, Tisha Sterling, Brenda Scott.

A platoon of baby-faced stars-in-the-making come galloping across the Western screen, guns a-blazing. Seven young volunteers from Texas set out to join the Confederate Army during the middle of the Civil War, riding hundreds of miles to get to Tennessee in time for the battle of Shiloh. Calling themselves the Concho County Comanches, the naively eager cowboys encounter class prejudice and mounting danger at every crossroads in their journey. Upon reaching the heat of battle, their spirit and bravery will be tested beyond their wildest expectations.
Don't miss this young wild bunch and a frontier adventure that has developed a growing and enthusiastic following over the years. A real sleeper.
"The Unstoppable Seven! They came to fight in tattered buckskins... and left in blazing glory!"