---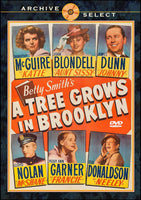 Sale
A Tree Grows in Brooklyn 1945 DVD (Region 1 - Playable in North America - The US, Canada, Mexico, etc.) B&W 123 minutes Optional subtitles. Beautifully re-mastered.
Starring: Dorothy McGuire, Joan Blondell, James Dunn, Lloyd Nolan, Peggy Ann Garner, Ted Donaldson and James Gleason.
Written by: Tess Slesinger and Frank Davis. Based on the 1943 novel by Betty Smith. Directed by Elia Kazan.
 This adaptation of the classic novel tells the story of young Francie Nolan (Peggy Ann Garner) who yearns for life beyond her Brooklyn apartment building. While her daily routine is difficult, she makes the best of her situation, living with her hard-working mother (Dorothy McGuire), alcoholic father (James Dunn) and tough little brother (Ted Donaldson). Encouraged by her kind but irresponsible dad, Francie struggles to keep her hopes up and persevere despite all the odds against her.
 James Dunn won the 1945 Academy Award for Best Supporting Actor, Frank Davis and Tess Slesinger were nominated for Writing, Adapted Screenplay, and Peggy Ann Garner won the 1945 Academy Juvenile Award.
In 2010 A TREE GROWS IN BROOKLYN was selected for preservation in the United States National Film Registry by the Library of Congress as being "culturally, historically, or aesthetically significant".