---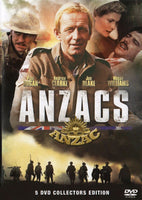 ANZACS (1985) DVD Region One (Playable in North America – The US, Canada, Mexico, etc.) Color Complete and uncut on a 5-disc set Approx. 520 min. Includes bonus "The Making of ANZACS". 
Quantities are very limited on this particular title. New lower price for a limited time only.

Starring: Andrew Clarke, Jon Blake, Paul Hogan, Christopher Cummins, Jonathan Sweet, Megan Williams, Shane Briant, Alec Wilson, and Peter Finlay. Written by John Dixon and John Clarke. Directed by John Dixon, George T. Miller and Pino Amenta.
Following the lives of a dozen Australian soldiers who served in the Anzacs (named for members of the all volunteer ANZAC army formations – The Australian and New Zealand Army Corps) during World War I which follows them from the 1915 battle of Galipoli, to the brutal trenches of France during the 1916 Somme battles, the 1917 Arias and Vimy Ridge battles to the final 1918 German offensives and the final victory drive as well as the hardships, mid-adventures and the casualties of friends encountered at each one.
The 1985 Australian TV mini-series ANZACS follows in the wake of Australian New Wave war films such as Breaker Morant (1980), Gallipoli (1981), and precedes The Lighthorsemen (1987). Recurring themes of these films include the Australian identity, such as mateship and larrikinism, the loss of innocence in war, and also the continued coming of age of the Australian nation and its soldiers (the ANZAC spirit).
One to watch! Complete and un-cut! Five disc collector's edition!
Very limited quantities and when they're gone - they're gone!