---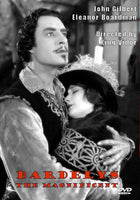 Bardelys The Magnificent 1926 Black and white (with tinted sequences) approx. 90 min. Silent with full-score.  Meticulously remastered (from best extant materials).
Starring: John Gilbert, Eleanor Boardman, Roy D'Arcy, Lionel Belmore, Emily Fitzroy, George K. Arthur, Arthur Lubin, Theodore von Eltz, Karl Dane, Edward Connelly, Fred Malatesta, John T. Murray, Joseph Marba, Daniel G. Tomlinson, Émile Chautard, Max Barwyn, Gino Corrado
Directed by King Vidor Screenplay by Dorothy Farnum (Based on "Bardelys the Magnificent" by Rafael Sabatini) Cinematography by William H. Daniels
King Louis XIII sends Chatellerault to win Roxalanne de Lavedan, hoping to keep the girl's fortune within the kingdom. When Chatellerault reports that Roxalanne is unapproachable, Bardelys, a courtier, wagers his entire estate against Chatellerault's that he will capture the girl within three months. En route, Bardelys finds a dying man and is given a miniature and some letters bearing the name Lesperon, whose identity he assumes. Finding that Lesperon is a traitor, he seeks shelter in the Lavedan estate, and though she is frightened, Roxalanne allows him to court her. Another suitor, St. Eustache, warns her that Lesperon is engaged to Mademoiselle Mersac. Bardelys is arrested for treason, but the arrival of the king saves him from execution. Roxalanne marries Chatellerault to save Bardelys' life, but Chatellerault is killed in a duel with the courtier, who is thereafter joined with his beloved.