---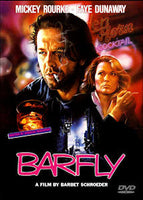 Sale
Barfly 1987 DVD (Region 1 - Playable in North America - The US, Canada, Mexico, etc.) Widescreen. Color. Mickey Rourke, Faye Dunaway, Frank Stallone, Alice Krige, Jack Nance, Pruitt Taylor Vince and Sandy Martin. Written by Charles Bukowski. Directed by Barbet Schroeder.

Downtrodden writer Henry (Mickey Rourke) and distressed goddess Wanda (Faye Dunaway) aren't exactly husband and wife: they're wedded to their bar stools. But they like each other's company- and Barfly captures their giddy, gin-soaked attempts to make a go of life on the skids. American original and poet/novelist extraordinaire Charles Bukowski drew upon his own life to script this story that tickles and jabs the social underbelly of booze, bars and brave madness... and eventually forces Henry to choose between life as a literary lion or freewheeling alley cat.
Barbet Schroeder (Murder by Numbers, Reversal of Fortune) directs this "classic one of a kind comedy" (Vincent Canby, The New York Times).