---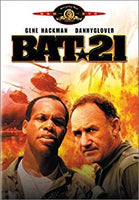 Bat 21 1988 DVD Region 1 (Region 1 - Playable in North America - The US, Canada, Mexico, etc.) Widescreen Color 105 Min.
Starring: Gene Hackman, Danny Glover, Jerry Reed, David Marshall Grant and Clayton Rohner.
Lt. Col. Iceal Hambleton (Gene Hackman) is shot down behind enemy lines during the waning days of the Vietnam War. His only connection to the outside world is through radio transmission with Capt. Bartholomew "Bird-Dog" Clark (Danny Glover), a pilot who helps him craft an escape plan and maintain his sanity. Lacking survival skills and unfamiliar with the harsh terrain in Vietnam, Hambleton is forced to fight for his life as he witnesses the shocking horrors of war.
"Trapped behind enemy lines. A whole army after him... And only one man can save him. "