---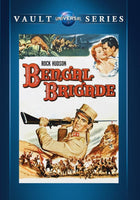 Bengal Brigade (1954)   DVD (Region One – Playable in US, Canada, Mexico, etc.) Beautiful picture and sound. Color. English. Shown in original aspect ratio 1.78:1  Approx. 1 hr 28 min. Beautiful!

Starring: Rock Hudson, Arlene Dahl, Ursula Thiess, Torin Thatcher, Arnold Moss, Dan O'Herlihy and Michael Ansara.
Produced by Ted Richmond. Written by Hall Hunter (novel) and Seton I. Miller. Directed by Laslo Benedek
Set in British India in 1857, at the outbreak of the Indian Mutiny. A British officer, Captain Claybourne (Rock Hudson), is cashiered from his regiment over a charge of disobeying orders, but finds that his duty to his men is far from over. He loves his Colonel's daughter (Arlene Dahl) and redeems himself in fighting renegade Sepoys. Will he finally be given the redemption that he has longed for so long?
"From marble palace to teeming jungle all India rocked with the violence of the great rebellion!"