---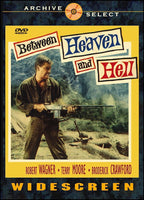 Sale
Between Heaven and Hell 1956 DVD (Region 1 - Playable in North America - The US, Canada, Mexico, etc.) Color Beautiful digitally re-mastered widescreen.
New temporary price!
Starring: Robert Wagner, Terry Moore, Buddy Ebsen and Broderick Crawford.  Directed by Richard Fleischer. Beautifully re-mastered.
Richard Fleischer directs this Second World War drama starring Robert Wagner, Terry Moore, Broderick Crawford and Buddy Ebsen. Sam Gifford (Wagner) is an arrogant landowner and wealthy cotton farmer in the Deep South of America who is drafted into active service in the United States Army when his country enters the Second World War. After being transferred to George Company for hitting an officer, his lack of humility falls foul of Captain 'Waco' Grimes (Crawford), who begins a mission to break his arrogant conscript. Gifford manages, however, to find inner strength and humility after he rescues fellow soldier Private Willie Crawford (Ebsen) and begins to stand up to the vicious Captain and develop a new-found respect for the working class that he used to despise back home.
"THE FIERCE FIGHTING FLAMING FURY OF THE SOUTH'S FINEST...THE DIXIE DAREDEVILS WHO BECAME THE HELL-FIGHTERS OF THE PACIFIC!"
"…suggests the regeneration of a hard-headed young G. I. on a Japanese island in the Pacific." – New York Times