---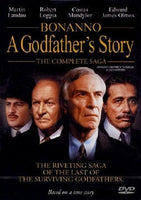 Sale
Bonanno: A Godfather's Story 1999 DVD (Region 1 - Playable in North America - The US, Canada, Mexico, etc.) Complete, Uncut Miniseries. Color. Approx. run time 5 hours.
Starring: Martin Landau, Bruce Ramsay, Tony Nardi, Costas Mandylor, Robert Loggia, Edward James Olmos.
In the violent, secret world of the Mafia, no Don ruled longer than Joe Bonanno of the powerful Castellammarese family. This is the true, chilling saga, told in his own words - a compelling journey that leads a small boy from Sicily to become the leader of America's vast criminal empire. Spanning many decades,
Pepino flees his fascist oppressors in Italy to make a new start in America. His deep family ties and fiery ambition soon take him to the innermost circles of New York organized crime, where he rises to become the top Mafia boss. From his showdown with the deadly Gambino gang, his clashes with Lucky Luciano, his meetings with President Roosevelt, his backroom deals with Joseph Kennedy, to his final betrayal of his own family, this is Bonanno's own true inside account.
Based on his best-selling autobiography, featuring a remarkable all-star cast. Not to be missed!