---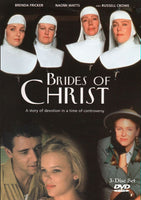 Sale
Brides of Christ 1991 (DVD) Six-part Australian Mini-series Three-disc set Color 327 minutes Beautiful print.
Starring: Brenda Fricker, Sandy Gore, Josephine Byrnes, Lisa Hensley, Beth Champion, Russell Crowe, Naomi Watts
Inside the convent walls of Santo Spirito, six remarkable women find themselves caught between centuries old tradition and the climactic social changes reshaping the secular world in the 1960s. Bound by their vows, these "Brides of Christ" struggle to confront questions they cannot answer, disciplines they refuse to follow and love they dare not feel. Entrusted to their care are spirited teenagers, schooled in the doctrines of the church, but eager to taste the newfound freedoms of their generation. Winner of 4 Australian Film Institute Awards including Best Mini-Series, "Brides of Christ" stars Academy Award® winner Brenda Fricker (My Left Foot) and features breakthrough performances from Naomi Watts and Academy Award® winner Russell Crowe (Gladiator).
"Brides of Christ" sounds like a modest miniseries about the lives of nuns in an Australian convent and girls' school in the 1960s. But within that simple summary are astonishing stories, both in the rich personal lives of the nuns and the cultural shifts at work as the Catholic Church struggled to bring itself into the modern age. Over six hour-long episodes, "Brides of Christ" focuses on six women: Sister Ambrose (Sandy Gore), the Mother Superior of Santo Spirito, whose gentle leadership goes astray when the school hires a male teacher; Sister Agnes (Brenda Fricker), a conservative nun who resists the modernizing changes dictated by the Vatican; Sister Paul (Lisa Hensley), an uncomplicated but devoted young nun who leaves the sisterhood when she falls in love; Frances (a young Naomi Watts,), a student whose parents are undergoing divorce; Rosemary (Kym Wilson), a rebellious girl who fights against the sexual repression of the church; and woven through it all, Sister Catherine (Josephine Byrnes), an independent-thinking nun whose craving for reform puts her at odds with her superiors.
"Brides of Christ" balances respect and empathy with a critical social perspective, always channeled through these superbly realized women. The smart and deeply felt scripts are given dynamic life by uniformly beautiful performances (also appearing is a pre-stardom Russell Crowe).
"An absolutely fantastic Australian mini-series that can't be recommended highly enough." – TV on DVD