---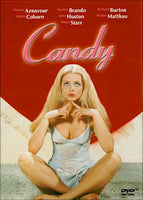 Sale
Candy 1968 DVD (Region 1 - Playable in North America - The US, Canada, Mexico, etc.) Widescreen. Color.
Starring: Ewa Aulin, Marlon Brando, Richard Burton, James Coburn, John Huston, Walter Matthau, Charles Aznavour, Ringo Starr, 
Candy, based on the naughty, notorious erotic satire by Terry Southern, whose wicked pen contributed to Dr. Strangelove and Easy Rider (among other '60s classics), and adapted for the screen by the sly Buck Henry (The Graduate and Catch 22), is a reconfiguration of Candide for the permissive '60s. Swedish teen beauty queen Ewa Aulin is Candy, all breathy, wide-eyed innocence as a curvy blond kewpie doll--think Lolita, Barbarella, and Baby Spice all rolled into one--whose naiveté lands her in the sack with one dirty old man after another on a sexual odyssey. Guest cads include Ringo Starr as a Mexican gardener; James Coburn preening as a surgeon who puts the "theater" into his operating theater; Walter Matthau as a snarling, insane general; and French crooner Charles Aznavour as a humpbacked spider man. Richard Burton stands out as a soused, sex-mad poet with an ever-present wind machine dramatically blowing his hair, and Marlon Brando's phony guru with a seductive line of mystic patter is downright hysterical.
A camp classic!