---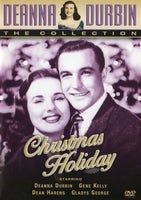 Sale
Christmas Holiday (1944) DVD (Region 1 - Playable in North America - The US, Canada, Mexico, etc.) Black & White. Beautifully re-mastered. Approx. 88 min.
Starring: Gene Kelly, Deanna Durbin, Gladys George, Dean Harens. Based on a novel by W. Somerset Maugham. Produced by Felix Jackson. Directed by Robert Siodmak
 A very grown up Deanna Durbin gives a bravura performance as a sleazy nightclub singer in this intense Film Noir Hollywood classic.
An Army Lieutenant (Dean Harens), recently jilted by his finacee, finds himself introduced to a New Orleans bordello by a drinking buddy. Here he meets singer Jackie Lamont (Deanna Durbin) - a woman with a dark past and an even darker secret.
Her real name is Abigail Manette and her husband Robert Manette (Gene Kelly) is a convicted murderer serving life in prison - or so she believes.
Unknown to her, Robert has broken out of jail and is intent on tracking her down. He's consumed with jealousy, obsessed with the idea she's been unfaithful to him - and has already decided that the hapless Lieutenant is really her secret lover.
A rare opportunity to see Deanna Durbin truly excel in an unusual and demanding role. CHRISTMAS HOLIDAY features her singing "SPRING WILL COME A LITTLE LATE THIS YEAR" and the Irving Berlin "ALWAYS".
"Durbin is excellent" Radio Times Guide to Film
"Gorgeously re-mastered in this exclusive DVD release!" - DVD Review of Films
Durbin... In her most dramatic glory. Love...was her crime! Love...was her punishment!