---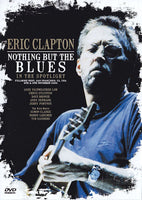 Sale
Eric Clapton: Nothing But The Blues DVD (Region 1 - Playable in North America - The US, Canada, Mexico, etc.) Color.  Running time: Approximately 95 minutes. New lower price!

Director: Martin Scorcese.
Filmed by director Martin Scorcese, this "In the Spotlight" PBS broadcast of Eric Clapton's "Nothing But The Blues" is an amazing concert documentary that's chock full of blistering live performance footage (most of which has never been previously released before) and up close interviews with EC, as well as tributes to his heroes Howlin' Wolf, Muddy Waters, Otis Spann, Jimmy Godgers, and Buddy Guy. Track List includes: Standing Around Crying, 44 Blues, It Hurts Me Too, So Much Emotion, Early in the Morning, Like Breaking Glass, Five Long Years, Crossroads, Malted Milk, Chop The Cotton,  Motherless Child, How Long, Reconsider Baby, Sinner's Prayer, Every Day I Have the Blues, Someday After a While, Have You Ever Loved a Woman, Tore Down, Groaning the Blues, Ain't Nobody's Business.

This is Clapton in his prime, so don't pass it up this chance to get this rare DVD offering while it lasts.