---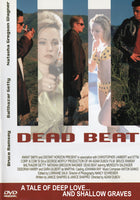 Dead Beat (1994) DVD (Playable in the US, Canada, Mexico, etc.) Color Run time approx. 92 min. Beautiful print.
Starring: Bruce Ramsay, Balthazar Getty, Natasha Gregson Wagner, Max Perlich, Caleb Smith, Casey Dixon, Meredith Salenger, Wendy Gastellum, Sara Gilbert, Debbie Harry and Alex Cox. Written and directed by Adam Dubov.
In 1965, Rudy (Balthazar Getty), a Midwestern high-school kid, moves to Albuquerque; lonely and friendless, he's attracted to Kit (Bruce Ramsay), slightly older, with a car, his own apartment, and spending money. Kit loves Elvis and loves the ladies; plus, he's a complete phony: his tan is fake, he wears lifts, he lies to girls, and he pretends to care about Rudy. Kit also shares a dark secret with two other devoted followers, Jimmy (Max Perlich) and Martha (Sara Gilbert). He meets his match in Kirsten (Natasha Gregson Wagner), a spoiled rich girl who gives as good as she gets. When she and a younger cousin disappear, Rudy must choose between loneliness and the law.
Also starring Debbie Harry and Alex Cox.
"A Tale of Deep Love ... And Shallow Graves."
Except for the name changes, this is the story of real-life killer Charles Schmid, who murdered several teenagers in Tucson, Arizona, in the mid-'60s.