---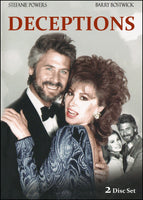 Deceptions (1985) DVD Color Region One (Playable in North America: The US, Canada, Mexico, etc.) Beautifully re-mastered.
Starring: Stefanie Powers, Barry Bostwick, Jeremy Brett, James Faulkner, Sam Wannamaker, Gina Lollobrigida and Brenda Vaccaro.
Based on the best-selling novel by Judith Michael. Directed by  Robert Chenault and Melville Shavelson. Two-disc collector's set.
Stephanie and Sabrina are twin sisters. Stephanie is a housewife, who doesn't seem content with her life, while Sabrina is a jetsetter who lives in London. They go to Venice for their birthday and decide to see how the other's life is. Sabrina goes to Stephanie's home and becomes mother to her children and wife to her husband Grant. Problem is that Stephanie is a little insecure about  an attractive student who is always flaunting herself at Grant. While Stephanie enjoys Sarina's life until her sadistic boyfriend comes into the picture.
Stefanie Powers give a tremendous one-two punch of a performance! – NE Journal