---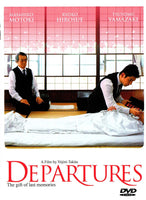 Departures (aka Okuribito) 2008 DVD Special Edition (Region One - Playable in the US, Canada, Mexico, etc.) Color Approx. 125 min. Widescreen (1:85:1) Japanese with optional English subtitles.


Starring: Masahiro Motoki, Ryôko Hirosue, Tsutomu Yamazaki Directed by YôjirôTakita


When professional cello player Daigo is left jobless after the orchestra he plays in disbands, he and his wife Mika move from Tokyo to the family home in rural Yamagata. Here Daigo stumbles upon a vaguely-worded advertisement in a local newspaper for a job assisting 'departures'. He turns up at the interview and is hired on the spot by his new boss Sasaki, only to discover the post is for an assistant nôkanshi, or traditional mortician, performing the Buddhist rites of washing and preparing corpses for their final journey. Initially he keeps the nature of his employment hidden from Mika, but as his disgust for his work turns to pride, he soon finds himself coming to terms with his own life and his past memories.
This life-affirming drama from director YôjirôTakita is beautifully complemented by a majestic score from Hisaishi Jô, featuring an affecting central performance from Motoki Masahiro (Gonin, Shall We Dance?).
Departures is a bittersweet portrait of one man's reconnection with the landscapes and life forces of home.
DVD SPECIAL EDITION CONTENTS:
Optional English Subtitles
The Making of Departures
Encoffinment - the complete unedited footage of the cleansing ritual
Theatrical Trailer