---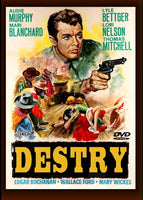 Sale
Destry (1954) DVD (Region 1 - Playable in North America - The US, Canada, Mexico, etc.) Widescreen Technicolor Approx. 95 min.
Digitally re-mastered. Part of The Audie Murphy Collection!

Starring: Audie Murphy, Mari Blanchard, Lyle Bettger, Thomas Mitchell, Edgar Buchanan, Lori Nelson, Wallace Ford, Mary Wickes, Alan Hale, Jr and George Wallace. Written by: Edmund H. North, D.D. Beauchamp and Felix Jackson. Based on 'Destry Rides Again' by Max Brand. Directed by George Marshall.
In the old West, a small frontier town is being controlled by ruthless mob boss Decker (Lyle Bettger) and his cronies. After the local sheriff dies under mysterious circumstances, Decker arranges to have the town drunk (Thomas Mitchell) appointed sheriff, thinking he will be ineffectual. But the new sheriff sends for Tom Destry (Audie Murphy), son of a famous two-fisted lawman, to be his deputy. When Tom arrives, he isn't exactly the swaggering he-man the sheriff had in mind. In fact, Destry doesn't even carry a gun. But the new deputy's mild exterior masks a fierce determination to see justice done, as Decker and the other locals soon discover.
"Murphy does exceptionally well as the quiet hero." – Variety
"The enduring image in 'Destry' is of Audie Murphy as the quietly courageous man of peace who, in the end, is forced to take up arms against the forces of evil. The moment when Destry finally, reluctantly, straps on his gunbelt and heads out the door to take care of business is one of the great scenes in Western films." Movie Arts Review
Part of The Audie Murphy Collection - buy more than one item from the collection and receive a 10% discount! Use discount code: "AUDIE".