---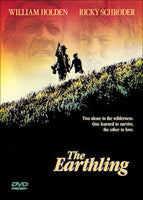 Sale
The Earthling 1980 DVD (Region 1 - Playable in North America - The US, Canada, Mexico, etc.) Color. Full Frame.
Starring: William Holden, Ricky Schroder, Jack Thompson, Olivia Hamnett, Tony Barry, Ray Barrett, Cul Cullen, Maggie Blinco. Written by Lanny Cotler. Directed by Peter Collinson.

Patrick Foley has been on the move all his life. Tired of drifting, he wants to spend his last days in an isolated Australian valley where he grew up. On his difficult journey he meets Shawn, a little desperate city-boy whose parents were killed in an accident in this remote inhospitable territory. Being unable to accompany the boy back to the civilized world he reluctantly takes him with him on his trip to that valley and teaches him in a rugged way how to survive.
A cult favorite for all ages, with a powerful and poignant swan song performance by William Holden.
Review: "This is an "idea" film with a plot. It is deeply existentialist, and tries to drive home the point that we are alive and that this is beyond miraculous, that we must each make our way in this cold universe, ultimately dependent upon no one else. Through life is is hard, and we face death at the end, the struggle to survive is also deeply satisfying.

Holden's character Patrick Foley passes these concepts onto the boy played by Schroeder. The photography is magnificent; the acting is good. The script is incredible. A truly underrated movie."