---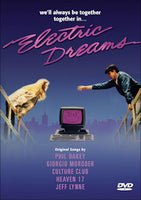 Sale
Electric Dreams DVD 1984 (Region 1 - Playable in North America - The US, Canada, Mexico, etc.) Color. Widescreen. New, lower price!

Starring: Virginia Madsen, Lenny Von Dohlen, Bud Cort, Maxwell Caulfield. Written by Rusty Lemorande Directed by Steve Barron

One of the classic, era-defining films of the 80's is finally released on DVD.
Miles is helpless, hopeless and about to blow a fuse. He buys a state-of-the-art computer that starts expressing thoughts and emotions after a having champagne spilled on him. Things start getting out of hand when Miles and Edgar (the computer - voiced brilliantly by Bud Cort) both fall in love with Madeline, an attractive neighbor. Now Edgar has decided to wreck Mile's life. He's ruined his credit rating, run up his phone bill, cancelled his plane reservations, locked him out of his house and now he's trying to steal his girlfriend.

I think we can all relate.
"Meet Edgar. He'll make you sing, make you dance, make you laugh, make you cry, make you jealous, make you nuts."

Region One. North American Format. Best In The Web.