---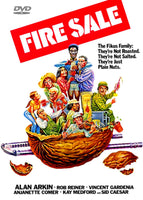 Sale
Fire Sale 1977 DVD (Region 1 - Playable in North America - The US, Canada, Mexico, etc.) Color. Widescreen. New, lower price!

Starring: Alan Arkin, Rob Reiner, Anjanette Comer, Vincent Gardenia, Sid Caesar. Directed by Alan Arkin.

A Hilarious Cult Classic Comedy. Benny (Vincent Gardenia) owns a department store that is approaching bankruptcy. As he prepares to go on vacation, Benny concocts a scheme to solve his financial problems: He'll get his mentally ill brother-in-law (Sid Caesar) to burn down the store and then he'll collect the insurance money. Meanwhile, Benny leaves his sons, Ezra (Alan Arkin) and Russell (Rob Reiner), in charge of the store. When they discover the money problems, his sons come up with their own solution, and chaos ensues.