---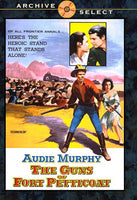 Sale
The Guns of Fort Petticoat  1957  DVD (Region One - playable in North America: The US, Canada, Mexico, etc.) Color. Widescreen. Digitally re-mastered. Approx. 80 Min.
Starring: Audie Murphy, Kathryn Grant, Hope Emerson, Ray Teal, Jeff Donnell, Jeanette Nolan
 GOOD WOMEN...BAD WOMEN...BRAWLING WOMEN...BRAVE WOMEN! They were all soldiers in skirts!
 U.S. Cavalryman Lt. Frank Hewitt (Audie Murphy) deserts the Union Army to warn former Texas neighbors of impending Indian attacks triggered by an Army massacre. He overcomes initial distrust and convinces the homesteaders (all women – whose men are away fighting in the Confederate Army) to take refuge in an abandoned mission. He trains them to fight  and shoot in anticipation of the attack. The only other man at the mission runs away to save his scalp and ends up leading the Indians back to the mission. Surrounded and outnumbered,  the defenders prepare for the final assault.
Gorgeous print - digitally restored!
Part of The Audie Murphy Collection - buy more than one item from the collection and receive a 10% discount! Use discount code: "AUDIE".