---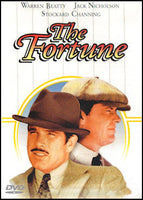 Sale
The Fortune 1975 DVD (Region 1 - Playable in North America - The US, Canada, Mexico, etc.) Widescreen. Color. New, lower price!

Starring: Jack Nicholson, Warren Beatty, Stockard Channing, Richard B. Shull, Florence Stanley, Scatman Crothers, Dub Taylor, Christopher Guest. Written by Carol Eastman. Directed by Mike Nichols.

Nicky Wilson (Beatty) and Oscar Sullivan (Nicholson) are inept scam artists who see pay dirt in the guise of Fredericka Quintessa Bigard (Stockard Channing), the millionaire heiress to a sanitary napkin fortune. She is in love with the already married Nicky, but because the Mann Act prohibits him from taking her across state lines and then engaging in immoral relations, he proposes she marry Oscar and then carry on an affair with the man she really wants. Oscar, who is wanted for embezzlement and anxious to get out of town, is happy to comply with the plan, although he intends to claim his spousal privileges after they are wed. Once they reach Los Angeles, the two men try everything they can to separate Freddie from her inheritance, without success but with enough determination to arouse her suspicions. When she announces she plans to donate all her money to charity, Nicky and Oscar panic and come to the conclusion murder might be their only recourse if they're going to achieve their goal.
" It takes three to tango (if you don't count the chicken). Sexier than the Marx Brothers, handsomer than Laurel and Hardy but not as smart as The 3 Stooges!"