---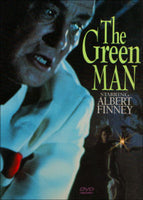 Sale
The Green Man 1990 DVD (Region 1 - Playable in North America - The US, Canada, Mexico, etc.) Digitally re-mastered. 3-Hour Mini-series. Color. New (temporary) lower price!

Starring: Albert Finney, Linda Marlowe, Michael Hordern, Sarah Berger, Josie Lawrence, Michael Grendage, Michael Culver, Nicky Henson, Nickolas Grace. Written by Malcolm Bradbury, based on the novel by Kingsley Amis. Directed by Elijah Moshinsky.

Maurice Allington (Albert Finney) owns an upmarket country restaurant 10 miles outside Cambridge. Formerly an inn, The Green Man in the tradition of many old buildings, is reported to have had at least one ghost. Dr. Thomas Underhill (Michael Culver), a 17th-century Doctor of Divinity, was rumored to have been the perpetrator of a number of unsavory crimes, not least of them being the horrific murder of his wife, and his spirit is said to haunt the medieval restaurant. Maurice, however, believes only in the spirits which come out of a whisky bottle and uses the tale of Dr. Underhill and his associated ghosts simply as a spine-chilling 'hors d'oeuvre' in his already successful restaurant. Only his teenage daughter, Amy (Natalie Morse) and daughter-in-law, Lucy (Josie Lawrence), believe that there is something more to Maurice's ravings than delirium tremens alone. Obsessed by the concept of death and the exciting prospect of inner peace and immortality assured by Underhill, Maurice overlooks the single and most important thing in his life - and in Underhill's death - something very precious which Underhill had contrived to take from him at the outset.
The true horror of Underhill is then revealed in this brilliant and harrowing unearthly descent. Albert Finney shines in the leading role.
"Maurice: What would you say if I told you that I had evidence of an individual who survived death in some form?
Rev. Tommy Sonnenscheim: I'm sorry, I'm afraid I don't deal with the paranormal, I'm a priest."