---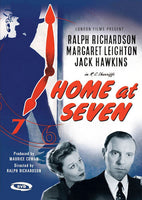 Sale
Home At Seven (Murder on Monday) (Region 1) Black and White. 1952 Beautiful print. Playable in the US. New lower price for a limited time.

Starring Ralph Richardson, Margaret Leighton, Jack Hawkins. Directed by Ralph Richardson.
When David Preston (Ralph Richardson) - a bank official - returns home at seven, his distraught wife (Margaret Leighton) tells him that he did not come home at all the previous night. He recalls nothing between the time he left the bank and his arrival home the following evening. His doctor (Jack Hawkins) first treats the occurrence lightly until it emerges that during Preston's "lost day" a murder and a robbery have taken place…
This was Ralph Richardson's first and only time as director.