---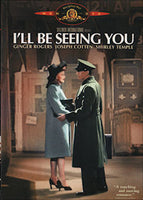 Sale
I'll Be Seeing You 1945 DVD (Region 1 - Playable in North America - The US, Canada, Mexico, etc.) B&W.
Starring: Ginger Rogers, Joseph Cotten, Shirley Temple, Spring Byington, Tom Tully, John Derek, Chill Wills Directed by William Dieterle and George Cukor.
A woman on Christmas furlough from the penitentiary where she is serving a term for manslaughter meets a stranger on a train - a shell-shocked veteran of the war. He is on holiday from a psychiatric ward. She invites him home to visit with her family. This is a tender wartime love story about two troubled people whose chance meeting becomes a quiet quest to crowd a lifetime of love and laughter into eight days. A beautiful tale.
Region One. North American Format.
"Both living a secret...each afraid to tell!"