---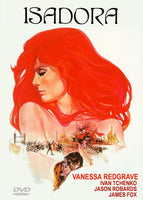 Sale
Isadora (aka The Loves of Isadora) 1968 DVD (Region 1 - Playable in North America - The US, Canada, Mexico, etc.) Color. Brand new remastered Anamorphic Widescreen. Plus: photo gallery, British Television Aquarius talk show about Isadora (featuring Lynn Seymour), rare archival footage of Isadora Duncan.
Starring: Vanessa Redgrave, Ivan Tchenko, Jason Robards, James Fox. Written by Melvyn Bragg and Margaret Drabble, based on Isadora Duncan's book "My Life". Directed by Karel Reisz.

Vanessa Redgrave stars in this film biography of the free-spirited, modern, interpretive dancer Isadora Duncan. Trained in classical dance, Duncan shattered the traditional conformities in her art and her personal life. The film begins at the end of her life as she recalls the past while dictating her memoirs to her male secretary. Her uninhibited sexuality and insistence on personal freedom and expression shocked more conservative and narrow-minded patrons and audiences. She brought in elements of classic Greek dance during the height of the jazz age and had children in and out of wedlock. Married to sewing-machine heir Paris Singer (Jason Robards) and the Russian poet Sergei Essenin (Ivan Tchenko), her life was a rollercoaster ride of success and tragic failures. Two of her children drowned when her chauffeur left the car unattended and the vehicle plunged into a river. Duncan lived by her own rules, often shunned by the very people who had so passionately embraced her pioneering efforts in dance, women's liberation and free thinking.
Redgrave was nominated for an Oscar for her performance. Also known as 'The Loves of Isadora'.

Region One. North American Format. Best In The Web.
"The Life and Many Loves of the Most Exciting Woman of Our Time"