---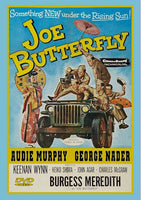 Joe Butterfly 1957 DVD (Region 1 - Playable in North America - The US, Canada, Mexico, etc.) Color. Widescreen. Digitally re-mastered with a new, lower price!
Starring Audie Murphy, George Nader, Keenan Wynn, Keiko Shima, Charles McGraw and Burgess Meredith as 'Joe Butterfly'.
At the end of the Second World War, Sergeant Kennedy (George Nader), the editor of famed army weekly "Yank" magazine flies across the Pacific with his staff to document life in post-war Japan.
Handed an impossibly tight deadline, they head to Tokyo's black market to search for story ideas, where they stumble upon underworld con-artist 'Joe Butterfly' (Burgess Meredith).
Butterfly offer the Yank staff an alternative to their run-down offices, setting them up in a plush, private mansion – but the new headquarters, frequented by a few local ladies, is strictly against regulations.
As the Yank staffers (Audie Murphy, Keenan Wynn and Charles McGraw) scramble to put together an issue, the sticky situation they find themselves in grows increasingly absurd.
Shot in Hong Kong and Japan. Great print! Gorgeously re-mastered.
"Meredith steals the show with his clever and often hilarious characterizations." - T.V. Guide
Part of The Audie Murphy Collection - buy more than one item from the collection and receive a 10% discount! Use discount code: "AUDIE".