---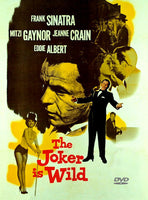 The Joker Is Wild 1957 DVD (Playable in North America - The US, Canada, Mexico, etc.) Black & White. New, lower price!

Starring: Frank Sinatra, Mitzi Gaynor, Jeanne Crain, Eddie Albert, Beverly Garland, Jackie Coogan, Barry Kelley, Ted de Corsia, Sophie Tucker, Valerie Allen, Ned Glass. Written by Oscar Saul based on the book "The Life of Joe E, Lewis" by Art Cohn. Directed by Charles Vidor.

Prohibition-era nightclub crooner Joe E. Lewis (Frank Sinatra) has his career and nearly his life cut short when his throat is slashed as payback for leaving the employ of Chicago mob boss Georgie Parker (Ted de Corsia). A broken alcoholic, Joe is brought back from the abyss by his faithful piano player, Austin Mack (Eddie Albert), who helps turn the former singer into a successful stand-up comedian. But Joe's demons plague his romantic life even as he reaches new heights of success.
" Another Academy Award Performance! His most stunning portrayal... scarred by the Chicago mobsters who tried to run his life! The Most Electric Performance That Ever Shocked and Fascinated an Audience!"
"Hear Frank Sinatra's hit song..."ALL THE WAY"
Sammy Cahn and Jimmy Van Heusen won an Academy Award for Best Original Song for "All The Way".