---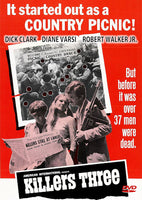 Sale
Killers Three 1968 DVD (Region 1 - Playable in North America - The US, Canada, Mexico, etc.) Color.
Starring: Dick Clark, Diane Varsi, Robert Walker Jr., Merle Haggard. Written by Michael Fisher, Dick Clark. Directed by Bruce Kessler.

Two backwoods North Carolinians (Robert Walker, Jr., and Dick Clark, who also produced) rob a bootlegger's safe, kill several people in the process, and head for California with Walker's wife (Diane Varsi).
Merle Haggard appears as a sheriff and sings the title song and his hit recording Mama Tried.