---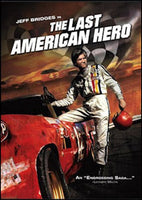 Sale
The Last American Hero 1973 DVD (Playable in North America - The US, Canada, Mexico, etc.) Color. Widescreen. Beautiful re-mastered print!
Starring: Jeff Bridges, Valerie Perrine, Ned Beatty, Geraldine Fitzgerald, Gary Busey, Ed Lauter, Art Lund, William Smith, Gary Walcott, Tom Ligon, James Murphy. Written by Tom Wolfe, Bill Kirby, William Roberts. Directed by Lamont Johnson.

Jeff Bridges gives a spellbinding performance as the fictionalized Junior Johnson, a moonshine smuggler who became one of NASCAR's first champions. Elroy 'Junior' Jackson is a kid full of attitude who helps his bootlegger father run their homemade whisky. When Junior crashes into a police blockade, they arrest his father who's looking at a lengthy prison stretch. Junior needs to raise some fast cash to get him released and hits the demolition derby circuit. His natural skill behind a wheel sees him swiftly move on to stock car racing and finally a chance to make it big on the famous NASCAR circuit.
"Instead of a white stallion, he rode a full race, powder blue stocker.

It took him 20 years to find out who he was and 2 laps to let the world know."