---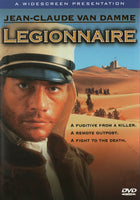 Legionnaire (1998) DVD Widescreen (Region One - Playable in the US, Canada, Mexico, etc.) Beautifully re-mastered widescreen print. Color Approx. 1 Hr. 35 Min.
Starring: Jean-Claude Van Damme, Adewale Akinnuoye-Agbaje, Steven Berkoff, Nicholas Farrell, Jim Carte
Produced by Christian Halsey Solomon, Edward R. Pressman, Gregory G. Woertz, Jean-Claude Van Damme Written by Jean-Claude Van Damme, Rebecca Morrison, Sheldon Lettich Directed by Peter MacDonald
The year is 1924 and Alain Lefevre (Jean-Claude Van Damme) is a headstrong boxer who has been declared the victor in a heavy wagered match. A match he had agreed to lose.
With his pockets stuffed with cash he runs through the alleyways, trying desperately to hide in the shadows. Hunted like an animal, his only friend and ally is shot dead. During the fracas, the gangster's brother is also killed. Now two people are dead, and the blame has fallen at his feet. As both the gangster's henchmen and the police close in Lefevre escapes into a completely new identity – a mercenary soldier in the French Foreign Legion. There he is launched into a brutal conflict in a strange and unfamiliar country. What he learns and who he encounters will change the course of his life forever…