---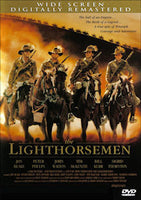 Sale
The Lighthorsemen 1987 DVD (Region One Playable in North America – The US, Canada, Mexico, etc.) Widescreen. Extended Version. Color.
Starring: John Blake, Peter Phelps, John Walton, Sigrid Thornton, Nick Waters, Jack Heywood, John Larking, Di O'Connor, Shane Briant, Bill Kerr, Gary Sweet, Grant Piro. Written by Ian Jones. Directed by Simon Wincer.

A true epic of triumph, courage and adventure, THE LIGHTHORSEMEN focuses on a four-man section of the Australian Light Horse Regiment and climaxes with the last great cavalry charge in history. 1917: The British campaign in Palestine is stalemated - the Turkish-German army holds a formidable line from Gaza on the coast to Beersheeba in the forbidding drylands between Sinai and the Dead Sea. In a final attempt to save the attacking British Army from disaster, everything depends on the 800 young Australian horsemen who obey the seemingly impossible order to gallop their horses across three miles of open desert into a hell of shell fire and machine gun crossfire. If they can smash their way through the Turkish defenses to win the precious wells of Beersheba, they can change the history of the Middle East.