---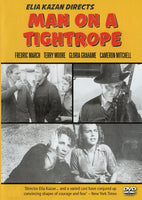 Man On a Tightrope (1953) DVD (Region One - Playable in the US, Canada, Mexico, etc.) Beautifully re-mastered. Black and white Approx. running time 105 min.
Starring: Fredric March, Terry Moore, Gloria Grahame, Paul Hartman, Richard Boone, Cameron Mitchell and Adolphe Menjou Directed by Elia Kazan Screenplay by Robert E. Sherwood (Based on 'Man on a Tightrope: The Short Novel' (1953) by Neil Paterson) Music by Franz Waxman Cinematography by Georg Krause
A struggling circus behind the Iron Curtain dreams of escape. Karel Cernik (Fredric March) is the leader of a Czechoslovakian circus troupe. When the country falls under Communist rule, the proud and independent Cernik finds that he is no longer free to operate his circus as he sees fit. Many of his performers are conscripted into military service, and his equipment and possessions are declared government property. Aside from the politics, he has his daughter's (the beautiful Terry Moore) romance with the handsome but unreliable lion tamer (Cameron Mitchell) to deal with. Finally, when Cernik's remaining performers are ordered to insert pro-Communist messages into their acts, he decides that he can take no more. He hatches a plan. But is there a Communist spy in the circus?
A triumphant drama of a circus, escape and suspense from the writer of The Best Years of Our Lives and the director of A Streetcar Named Desire.
Shot on location in Bavaria, West Germany, authentic acts were used, and the entire Circus Brumbach was employed for the production. The original plot to escape in small increments across the border was the actual means used by the Circus Brumbach in their escape.
"Red Terror Stalks the Circus in 'Man on a Tightrope'" – New York Times (1953)