---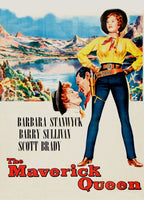 Sale
The Maverick Queen DVD (Region One) 1956 Widescreen. Trucolor. Digitally restored. Beautifully re-mastered. New, lower price.
Starring: Barbara Stanwyck, Scott Brady, Barry Sullivan, Mary Murphy, Wallace Ford, Howard Petrie, Jim Davis, Walter Sande, Emile Meyer, John Doucette, Tristram Coffin. Written by Kenneth Gamet, Devallon Scott based on the novel "The Maverick Queen" by Zane Grey. Directed by Joseph Kane.

Kit Banion (Barbara Stanwyck), a Virginia-born beauty and product of post-Civil War chaos, has settled in Wyoming and prospered. Through her shrewd - and sometimes illegal - dealings she has acquired a fortune and a hotel, which, like the owner bears the name of "The Maverick Queen."---a title picked up by Kit in her earlier days when she took every unbranded steer and put her own brand on it. Love and trouble enter her life in the person of a Pinkerton detective posing as Jeff Younger (Barry Sullivan). He is dedicated to catching Butch Cassidy (Howard Petrie) and the members of The Wild Bunch, including Kit's current love, The Sundance Kid (Scott Brady).

Photographed in Naturama Widescreen and Trucolor. Based on the novel by Zane Grey. Directed by Joseph Kane.
"Photographed in the colorful state of Colorado in exquisite TRUCOLOR by Consolidated Film Industries."
Review: "That's for me the best movie from director Jo Kane, this prolific director who never quit Republic Pictures. Starring Barbara Stanwyck in a role very close to the ones she had in FORTY GUNS, THE FURIES and CATTLE QUEEN OF MONTANA, this western is helped by superb Colorado state settings, and a music score - and song - that brings you far beyond the story. Barbara Stanwyck is as good as ever and Scott Brady doesn't disappoint either, nor does Barry Sullivan."