---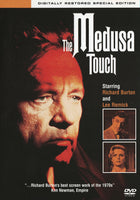 The Medusa Touch (1978) DVD (Region One - Playable in the US, Canada, Mexico, etc.) Beautifully re-mastered. Color. Presented in its original theatrical aspect ratio 1.78:1 Approx. running time 105 min.
Starring: Richard Burton, Lino Ventura, Lee Remick, Harry Andrews, Alan Badel, Jeremy Brett and Derek Jacobi Screenplay by John Briley (Based on 'The Medusa Touch' by Peter Van Greenaway) Produced by Anne V. Coates, Jack Gold, Arnon Milchan Directed by Jack Gold
John Morlar (Richard Burton), a well-known novelist, is savagely attacked in his London flat. Barely alive, he is taken to hospital, and Brunel, a French detective (Lino Ventura) currently based in the capital, is assigned to the case. His investigations lead him to Morlar's psychiatrist (Lee Remick), who discloses that her patient is obsessed: Morlar feels he bears an awesome telekinetic power the capacity to "will" destruction and death by making airplanes crash and buildings crumble, start raging fires and unleash mighty floods. Preposterous though it seems, Morlar's power is sickeningly real he is able to wreak havoc at will and seemingly can't be stopped...
Directed by Jack Gold from a script by Oscar winner John Briley, The Medusa Touch is a star-studded, fast-paced thriller with a spectacular, spine-chilling climax, and stars Richard Burton in what author and critic Kim Newman calls his "best screen work of the 1970s". The film is featured here in a new transfer made from original film elements in its as-exhibited theatrical aspect ratio.
SPECIAL FEATURES - Audio commentary with director Jack Gold, Kim Newman and Stephen Jones