---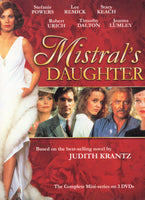 Mistral's Daughter 3-Disc Set (1984) DVD Approx. 6 Hr. 30 Min. Region One - Playable in the US, Canada, Mexico, etc. Color Shown in original aspect ratio 1.33:1 The Star-Studded CBS Mini-Series Event!
Starring: Stacy Keach, Stephanie Powers, Lee Remick, Robert Urich, Timothy Dalton, Ian Richardson, Cotter Smith, Joanna Lumley, Michael Gough, Philippine Leroy-Beaulieu, Stephanie Dunnam and Stéphane Audran. Written by Terence Feely and Rosemary Anne Sisson, based on the Best-Selling Novel by Judith Krantz. Directed by Kevin Connor and Douglas Hickox.
Witness three generations of magnificent red-haired beauties born to scandal and bound to a single extraordinary man – Julien Mistral (Stacy Keach), the painter, the genius, the lover – whose passions seared them all…
Maggy (Stephanie Powers) – the toast of Paris in the '20s. Her luminous flesh was immortalized in the paintings that made Mistral legendary… Teddy (Stephanie Dunnam) – Maggy's daughter, the incomparable cover girl who lived fast and left as her legacy Mistral's dazzling love child… Fauve (Philippine Leroy-Beaulieu) – Mistral's daughter, whose one dark secret drove her to risk everything in a feverish search for love.
From the '20s Paris of Chanel to the model wars of the '70s, this epic mini-series captures the scandal and explosive glamour of the worlds of art and high fashion.
ALSO INCLUDES: New Interview with Stacy Keach and an introduction by Judith Krantz.