---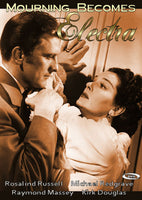 Mourning Becomes Electra 1947 DVD (Region 1 - Playable in North America - The US, Canada, Mexico, etc.) Black and White.
Starring: Rosalind Russell, Michael Redgrave, Raymond Massey, Katina Paxinou, Leo Genn, Kirk Douglas, Henry Hull, Sara Allgood, Thurston Hall. Written by Dudey Nichols based on the play by Eugene O'Neill. Directed by Dudley Nichols.

Rosalind Russell stars in this Eugene O'Neill legend of post-Civil War New England (loosely based on the Greek tragedy – The Oresteia). Russell plays Lavinia Mannon, the daughter of a returning war hero Ezra Mannon (Raymond Massey), who comes home to find his wife Christine (Katina Paxinou) in the arms of a younger man. Christine murders her husband, leaving it to her grown children - Russell and Michael Redgrave - to exact vengeance. The rather morbid plotline climaxes with Russell's descent into destructive self-righteousness and her brother's retreat into insanity.
Dark, brooding, and deeply disturbing, Mourning Becomes Electra deserves more attention and high praise than it has ever received.
"...Mother and daughter in love with the same man ... rivals in ruthlessness even to murder!"