---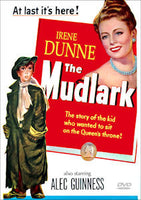 Sale
The Mudlark 1950 DVD (Region One Playable in North America – The US, Canada, Mexico, etc.) Black & White.
Starring: Irene Dunne, Alec Guinness, Andrew Ray, Finlay Currie, Beatrice Campbell, Anthony Steel, Nicholas Amer, Marjorie Fielding, Constance Smith. Written by Nunnally Johnson based on the novel by Theodore Bonnet. Directed by Jean Negulesco.

The mudlark is "Wheeler" (Andrew Ray), an illiterate London street urchin of the mid-19th century. Having seen a picture of Queen Victoria on a coin, Ray determines to meet the Great Lady, and to that end he sneaks into Windsor Castle. Victoria (Irene Dunne) has sequestered herself in the castle since the death of her beloved Prince Albert, and has refused to make any public appearances, much to the consternation of Prime Minister Disraeli (Alec Guinness).
"The Beloved Book-of-the-Month in the COMMAND PERFORMANCE PICTURE of the year! At last it's here! The story of the kid who wanted to sit on the Queen's throne! "