---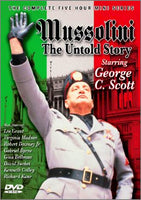 Mussolini: The Untold Story 1985 DVD (Region One - Playable in North America - The US, Canada, Mexico, etc.) 7-Hour Mini-series. 2-Disc Set. Color.
Starring: George C. Scott, Virginia Madsen, Lee Grant, Raul Julia, Mary Elizabeth Mastrantonio, Robert Downey Jr., Gabriel Byrne, David Suchet, George Couloris. Written by Stirling Silliphant. Directed by William A. Graham

In 1922 Mussolini builds his power base through his Black Shirt militia. Mussolini, known as Il Duce, creates a national fervor that peaks after the Italian invasion of Abyssinia in 1935. In 1938, in spite of attempting to promote peace a Munich conference, Mussolini aligned himself with Hitler and drew his country into World War II, which led to Italy's downfall and his own dishonorable fate.
Based on the memories of Vittorio Mussolini, the oldest son of the Italian dictator.
"
!"