---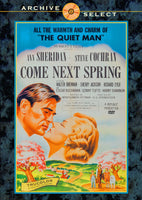 Sale
Come Next Spring (1956) DVD Trucolor Approx. 1HR 32 min. Playable in the US. Shown in its original theatrical aspect: 1.33 : 1.
Starring: Ann Sheridan, Steve Cochran, Walter Brennan, Sherry Jackson, Richard Eyer, Edgar Buchanan, Sonny Tufts, Harry Shannon, James Westmoreland, Mae Clarke, Roscoe Ates, Wade Ruby, James Best. Music by Max Steiner, with the title song "Come Next Spring" sung by Tony Bennett. Written by Montgomery Pittman. Directed by R.G. Springsteen.
"Come Next Spring" is set in 1920's Arkansas. Matt Ballot (Steve Cochran) has returned home after many years of hard drinking in all 48 states. His wife (Ann Sheridan) has managed to raise their young daughter (Sherry Jackson) and son (Richard Eyers) nicely without his help. Matt is considered a disgrace to the town he came from, and now he finds himself trying to win the love of his children, his wife and the respect of the town's people.
Steve Cochran formed his own independent-producing firm in 1955, called Robert Alexander Productions (his birth name was Robert Alexander Cochran) and he produced COME NEXT SPRING under that banner.