---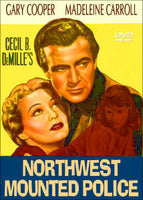 Sale
North West Mounted Police 1940 DVD (Region 1 - Playable in North America - The US, Canada, Mexico, etc.) Color (Technicolor). Digitally re-mastered. Pristine picture and sound. A rare find! Newly lowered price!

Starring: Gary Cooper, Madeleine Carroll, Paulette Goddard, Preston Foster, Robert Preston, George Bancroft, Lynne Overman, Akim Tamiroff, Lon Chaney Jr. Directed by Cecil B. DeMille.
Filmed on location in the Canadian Rockies, this is the majestic story of Texas Ranger Dusty Rivers (Cooper), who is sent to Canada during the 1880s in pursuit of outlaw Jacques Corbeau (George Bancroft), arriving in the midst of the Riel Rebellion. Dusty meets nurse April Logan (Madeleine Carroll) and quickly falls in love with her. However, she is already involved with Canadian Mountie Sergeant Jim Britt (Preston Foster). Dusty and April have become involved with one another, which becomes evident to Jim, to whom April wishes to remain loyal. Meanwhile, April's brother, Ronnie Logan (Robert Preston), who also is a Mountie, is in love with Corbeau's daughter, Louvette (a very sexy Paulette Goddard).
With thrilling stunts and loaded with action, this is a DeMille epic for the ages!