---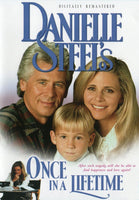 Danielle Steel's - Once in a Lifetime (1994) DVD Color Approx. 88 minutes (Playable in North America - The US, Canada, Mexico, etc.) Digitally remastered. Beautiful print.
Starring: Lindsay Wagner, Barry Bostwick, Amy Aquino, Rex Smith, Duncan Regehr Written by: Danielle Steel (novel) and Syrie Astrahan James Directed by Michael Miller
On Christmas Eve in New York City, world famous author Daphne Fields is lost in thought while crossing the street and hit by a car. Rushed to hospital her mind flashes back over the triumphs of her career as well as the personal tragedies that began when her husband and daughter were killed in a fire. Then, realizing she was pregnant, Daphne began a writing career and set about bringing up her son, who was born deaf. Back in the present, whilst lying in hospital, she meets a hearing specialist and romance blossoms. Could this also be the chance of a lifetime for her son?